To donate to Tinker's Creek Watershed Partners please click the "Donate" button below and specify an amount. Your donation is tax deductible. You will be recognized in our winter e-Newsletter. If you wish to have your donation be anonymous, please contact Kate at [email protected]
So what does your donation do? TCWP is active in our communities through workshops, clean-ups, festivals, and partnerships. Your donations go directly to benefit the watershed by supporting these events with new equipment, providing food for volunteers, administrative cost of workshops, and so much more.
If your donating for "Tinker the Turtle", he thanks you for your help! Your donation will help TCWP with supplies like enclosures, heat lamp and timer, water bowl, substrate, food, cleaning supplies, vet visits, and so much more.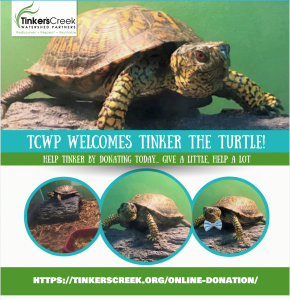 Thank you for your donation!
*Please be informed that the information you will provide on this form will not be disclosed to any other personnel or third party other than Tinker's Creek Watershed Partners.