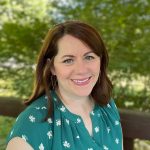 Erica Matheny serves as Tinker's Creek Watershed Partners Executive Director.  Her role is to lead the vision and mission of the organization, and to oversee the operations, finances and programs while working to protect and restore water quality and habitats in the Tinker's Creek and Brandywine Creek watersheds through community partnerships.
Erica is passionate about engaging and educating the public to protect the land and water that is foundational to the region and beyond.  She has more than 15 years' experience teaching and researching urban and environmental studies and science at Cleveland State University, Hiram College, Stark State College, Lorain County Community College, and Lakeland Community College. Prior to joining TCWP, she spent 4 ½ years working with the National Inventors Hall of Fame®, where she conducted impact research, developed National STEM programs, led the Diversity, Equity, and Inclusion (DEI) committee as its Training Coordinator, and spearheaded sustainability efforts, reducing more than 80% of single-use plastic materials used by more than 200,000 program participants.
She holds a PhD in Urban Studies and Public Administration with a concentration in environmental issues. In addition, she has a Masters degree in Ecology, and a Bachelors of Science in Biology. A strong advocate for equity and environmental justice – she recently completed her certification in Diversity, Equity, and Inclusion in the Workplace with the University of South Florida.
In her free time, Erica likes to spend time hiking and kayaking with her family and their two dogs and traveling whenever she can!