As fall approaches, leaves falling from the trees can enter our storm drains and river systems.  Leaves provide excess nutrients and organic matter to streams that can restrict photosynthesis rates, enable algal blooms, and disrupt aquatic food chains.  By using these leaves in creative ways, like making compost out of leaves, we can prevent excess leaves from entering streams and storm drains.
Referring to it as "black gold," gardeners rave over compost made using leaves.  The deep roots of trees absorb minerals from deep within the soil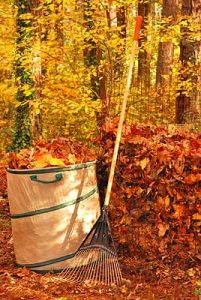 and transport these minerals to the leaves.  As a result, leaf compost contains twice as many minerals as manure, another common fertilizer.  This type of compost also benefits the soil itself, improving structure for all soil types by aerating clay soils, keeping sandy soils moist, and controlling infiltration and evaporation rates.  Used in combination with regular soil, compost made from leaves is a cheap and easy product to make in the fall.
To make the most beneficial compost for your garden, try using maple, birch, ash, beech, or fruit tree leaves.  These types of leaves have been shown to produce the best compost, while other tree leaves may actually harm your garden.  Oak leaves, for example, are very acidic when they decompose.  This acidity can harm a wide variety of plants, so oak leaves should only comprise 10-20% of your compost pile.
Shredding your leaves before adding them to the pile will increase the rate of compost.  This can be achieved by using a shredder, push mower, ride mower, or other technologies.  Using shredded leaves will also make your compost pile easier to control and handle.
Compost rates can also be speeded up by adding a nitrogen source to your compost pile.  This source can be freshly cut grass; chicken, horse, or rabbit manure; or any other source of nitrogen.  It is recommended that your compost pile contain five parts of leaves to every one part of the nitrogen source or a six inch layer of leaves to every two inch layer of nitrogen-rich material.
One last requirement for making leaf compost is to keep your pile together, turned, and moist.  Turning the pile allows oxygen to infiltrate the soil and force the pile to heat and decompose.  At minimum, you should turn your pile once every three weeks. Your compost pile should also never dry out.  It should consistently feel like a damp sponge to maintain a healthy rate of decomposition.
It is possible to
make leaf compost in as little as 14 days by following more specific guidelines.  To create this compost fast, use four parts leaves to every one part manure and turn the pile once every three days.  You can also cover the pile with a plastic sheet to keep moisture levels more consistent.  As the leaves begin to fall, start collecting them!  Your garden will thank you later.