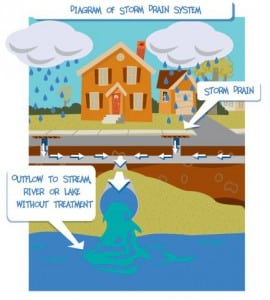 Stormwater is the precipitation that collects upon the landscape in the form of rain, snow, ice, and sleet. As the rain moves or snow melts and flows across the surface, it picks up different pollutants such as sediment, oil, grease, lawn fertilizers, pesticides, agricultural runoff, and many other toxic substances that collect on the ground. The water drains into the storm sewer system and flows through a series of pipes eventually reaching our streams, rivers, wetlands, and lakes. This water is untreated and, because of the toxins it has collected, adversely affects water quality in the receiving waters. Bacteria, nutrient loading, fecal coliform, and other harmful pathogens and chemicals can cause health risks to the ecosystem and to the members of the community.
As cities began to grow in population, a need to remove stormwater from urban areas became evident. Initially, ditches alongside roads were used to divert water away from the city to other areas, such as nearby creeks. However, these open ditches became areas that fueled bacteria and disease outbreaks. As bricks and mortar became widely used, a new system had to be constructed to remove stormwater from the city. Tunnels were constructed from these materials. New technologies started to develop, and as cities grew, the stormwater infrastructure grew as well. This growth greatly benefited the economy, but was detrimental to our natural resources. The increase in impervious cover resulting from this growth has created greater stormflows, therefore more water enters our streams, rivers, wetlands, and lakes. Groundwater replenishment is decreasing, flash flooding occurs more frequently, and the health of our streams is declining.
Political jurisdictions within the Tinker's Creek Watershed are now addressing these issues governed by NPDES (National Pollution Discharge Elimination System) requirements. However, there are several ways that you as an individual can help. Implementing water conservation practices in your own backyard can save you money and create interesting gardens. Rain barrels collect water from your downspouts and can be used to water your garden, yard, trees, or anything else in your yard. A rain garden is a relatively small area of plantings near the drain spout of a building or a paved area. Rainwater is routed to the garden and filtered naturally by the plants and soils of the garden.
Reduced flooding and erosion
Decreased velocity and increased filtration of water runoff
Shaded streams
Increased habitat
Assessment of Ohio Stormwater Management
In addition, these corridors offer amenities for a community including:
Recreation opportunities
Enhanced property values