TCWP Stormwater webinar series
February 16, 2022 @ 1:00 pm

-

3:00 pm

$25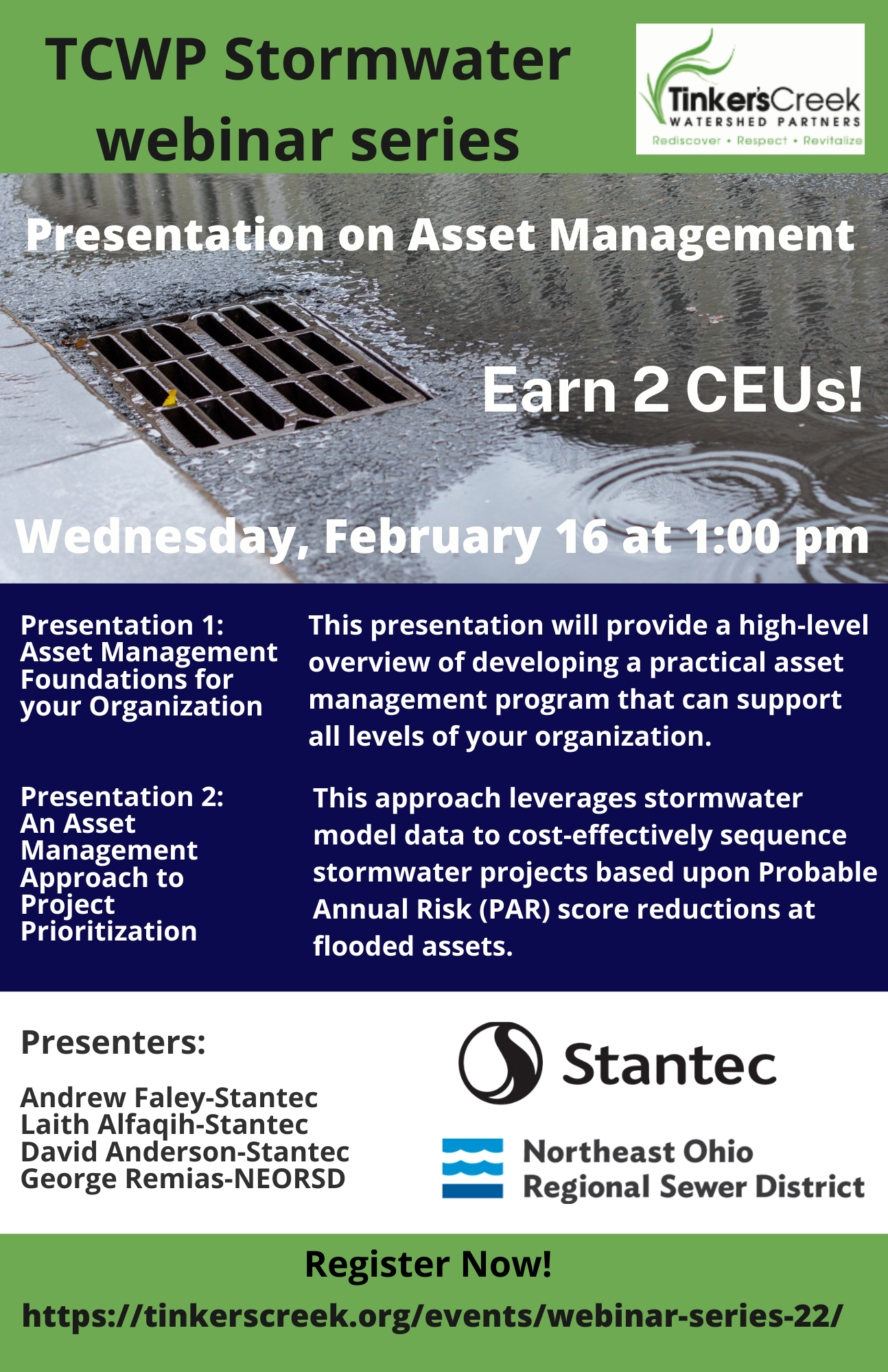 Join us for the first in our series of Stormwater webinars!
Click here to register!
Presentation 1:  Asset Management Foundations for your Organization
Many organizations are looking for ways to streamline their organizational workflows, provide their resources with improved tools to support O&M activities, and enhance project/budget planning processes.  All of these are major drivers in the development of an Asset Management Program.   This presentation will provide a high-level overview of developing a practical asset management program that can support all levels of your organization.  The high-level items of the program development will focus on Organizational Asset Management Framework, Asset Inventory, Levels of Service/KPI's, O&M, and Risk Management/CIP Support.
Presenters:
Andrew Faley: Andrew is an Asset Management/GIS Manager for Stantec with over 28 combined years of experience in Asset Management, GIS and Information Solutions.  Mr. Faley provides a practical and programmatic approach in developing Asset Management/ GIS Programs for utility organizations from planning, through design, development, implementation and support. Mr. Faley is a Geographic Information System Professional (GISP) and Project Management Professional (PMP).
Laith Alfaqih:Laith has 19 years of experience utilizing a multidisciplinary asset management approach across different sectors and effectively partnering with stakeholders to develop robust and sustainable solutions. These solutions are developed to provide organizations with the best solutions that fit their culture and journey towards reliability and resiliency.
Presentation 2: An Asset Management Approach to Project Prioritization
The lack of stormwater management regulations during Ohio's peak development period has resulted in extensive, costly, and complex improvements to mitigate flooding and structural risks throughout Greater Cleveland. To address this challenge, the Northeast Ohio Regional Sewer District developed an asset management-based data-driven strategy under their Regional Stormwater Management Program (RSMP). The strategy categorizes both stormwater infrastructure assets and assets impacted by flooding, erosion, or structural deficiencies, assesses risk and its annual probability of occurrence at each asset, prioritizes and plans construction projects, and tracks the overall success of the RSMP. Come learn about an exhilarating asset management approach to project prioritization that leverages stormwater model data to cost-effectively sequence stormwater projects based upon Probable Annual Risk (PAR) score reductions at flooded assets!
Presenters:
David Anderson: David is a water resources engineer at Stantec with over 6 years of experience in modeling and geospatial analyses to support planning and design projects. David has performed H&H modeling in combined, sanitary, and stormwater systems with a wide variety of hydrologic methods and H&H platforms.
George Remias: Mr. Remias has over 24-years of stormwater management experience throughout the Midwest. He is the Manager of Stormwater Strategic Support for the Northeast Ohio Regional Sewer District. He has a Bachelor of Science in both Physics and Civil Engineering and is a Licensed Professional Engineer in the State of Ohio.
Tinker's Creek Watershed Partners offers our stormwater webinar series to complement our annual stormwater conference. The 2022 OH Stormwater Conference will take place May 11-13, 2022.
TCWP will be hosting webinars on the third Wednesday of each month from February through April and July through September at 1:00 – 3:00 pm EST. You can register for multiple sessions through the registration page, and then you will receive a separate link to each webinar. Each session earns 2 CEUs, certificates to be sent to the registration email after the webinar. All sessions include speakers/topics related to stormwater practices, restoration, and engineering.
Registration ends at 4 pm the day before each webinar.  (The Zoom link will be sent out the day before the event).
If you have questions or need more information, please email Sara Borse at [email protected].
Click here to register!