TCWP stormwater webinar series
March 16, 2022 @ 1:00 pm

-

3:00 pm

$25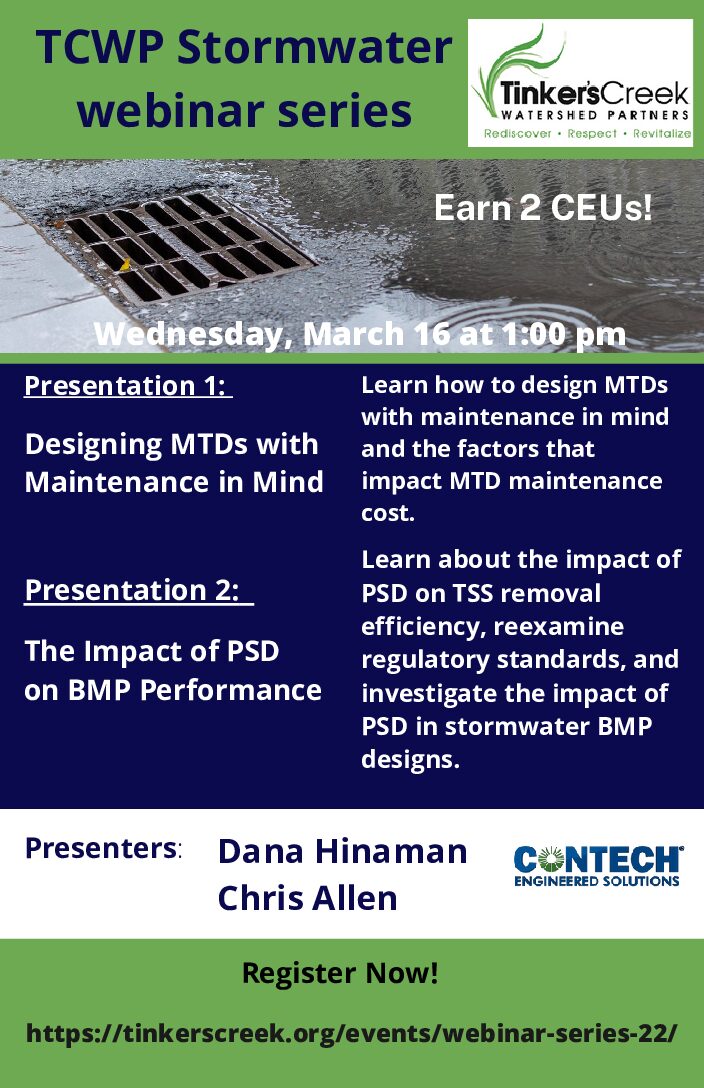 Join us for our second webinar in the series.
Click here to register!
Presentation: Designing MTDs with Maintenance in Mind
Manufactured Treatment Devices (MTDs), similar to non-proprietary stormwater BMPs, must be maintained to perform as intended. However, majority of effort and focus is placed upon the initial design and construction of stormwater treatment facilities, with little thought as to how these systems will be maintained long-term. This presentation aims to help engineers better understand how to design MTDs with maintenance in mind, and the factors that impact MTD maintenance cost.
Speaker Bio:
Dana Hinaman is the Stormwater Consultant for Ohio and Kentucky specializing in stormwater solutions. She provides assistance to local engineers and regulators with the selection and design of post-construction BMPs. She is a OSWA Member and on the Marketing Committee handling social media. Dana started her career with Contech in 2016 and is a graduate of Valparaiso University with a degree in Civil Engineering specializing in stormwater and environmental engineering.
Presentation: The Impact of PSD on BMP Performance
Decades of BMP performance data have made it clear that for passive stormwater treatment, the removal of suspended solids is directly correlated with the particle size distribution (PSD) of the influent solids. In fact, PSD is so integral to the performance of some BMPs, that performance standards like 80% TSS reduction are potentially misleading without additional PSD context. This presentation will review multiple sources of performance data for stormwater BMPs to highlight the impact of PSD on TSS removal efficiency, reexamine current regulatory standards, and investigate the impact of PSD in stormwater BMP designs.
Speaker Bio:
Chris Allen is a Regulatory Manager for Contech Engineered Solutions. He has a BS in Civil and Environmental Engineering from the University of Cincinnati with focused coursework on Water Resources. Chris began working for Contech as a Stormwater Design Engineer specializing in stormwater treatment and detention design. As a regulatory manager, he works in the Great Lakes area to manage regulatory approvals as well as provide technical assistance for stormwater products to regulators, design engineers, and consultants.
Tinker's Creek Watershed Partners offers our stormwater webinar series to complement our annual stormwater conference. The 2022 OH Stormwater Conference will take place May 11-13, 2022.
TCWP will be hosting webinars on the third Wednesday of each month from February through April and July through September at 1:00 – 3:00 pm EST. You can register for multiple sessions through the registration page, and then you will receive a separate link to each webinar. Each session earns 2 CEUs, certificates to be sent to the registration email after the webinar. All sessions include speakers/topics related to stormwater practices, restoration, and engineering.
Registration ends at 4 pm the day before each webinar.  (The Zoom link will be sent out the day before the event).
If you have questions or need more information, please email Sara Borse at [email protected].
Click here to register!