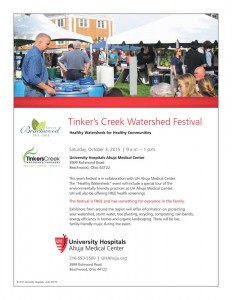 TCWP Presents the 10th Annual Watershed Festival
When: October 3, 2015
Time: 9 am to 1 pm
Where: University Hospital Ahuja Medical Center (3999 Richmond Rd, Beachwood, OH 44122)
This year's festival is in collaboration with University Hospital Ahuja Medical Center is celebrating healthy watersheds for healthy communities!
Healthy Watersheds: The event will include a special tour of the environmentally friendly practices at the medical center. The rarely provided behind the scene tours will happen at 1o am, 11 am, and noon and will last 30 minutes.
Healthy Communities: Learn about the efforts of local organizations to improve environmental health in the region. Also University Hospital will offer FREE cholesterol, blood glucose, body mass index, and blood pressure screenings.
The festival is FREE and has something for everyone in the family!
Exhibitors from around the region will offer information on protecting your watershed, stormwater, tree planting, recycling, composting, rain barrels, energy efficiency in homes, and organic landscaping. The event will also have live, family friendly music.
***TCWP is currently seeking additional exhibitors for the event.  Non-profit groups receive a free table, chair and tent cover, and the for-profit fee is only $10. Please contact Babette at [email protected] for more information.***
Below are a few of the exhibitors you will see at the event:
Alliance for the Great Lakes
Barefoot Life Products, LLC
Because I Said I Would
City of Cleveland–Sustainability Office
Davey Resource Group
Earth Day Coalition
Environmental Design Group
EnviroScience Inc
Good Nature Organic Lawn Care
Ohio Sea Grant
Perfectly Posh
Summit Soil and Water
Tails From the City
Tinker's Creek Watershed Partners
Watershed Collaborative (Central Lake Erie)