We're sorry, but all tickets sales have ended because the event is expired.
TCWP First Annual Rubber Ducky Race


August 19, 2023




1:00 pm - 1:15 pm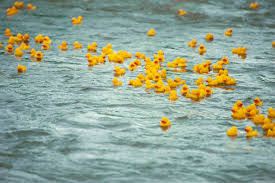 Watershed Family Fun Day Ducky Race
Join us for an exhilarating and family-friendly event as Tinkers Creek Watershed Partners proudly presents our first Annual Ducky Race at this year's Watershed Family Fun Day. This fun-filled race promises an unforgettable experience for all attendees!
Date: August 19, 2023, During Watershed Family Fun Day. Race time will be at 1:00 pm.
Location: Tinker's Creek behind the TCWP office
                    10075 Ravenna Rd, Twinsburg, OH 44087
Here's some info you need to know:
Ticket Info:
Get your tickets for just $5 each or opt for a Quack Pack of 6 ducks for $25 – giving you more chances to win! Each ticket is associated with a specific numbered rubber duck, so don't quack up. Grab your lucky ducks soon!
The Thrilling Race:
Watch with excitement as all the racing ducks are released into the flowing waters of Tinker's Creek. Once launched, they'll be on their own, navigating the currents in a spirited dash to the finish line. No interference is allowed, ensuring a fair and thrilling competition for everyone.
Fantastic Prizes:
Cheer on the feathered contestants as they speed towards victory! The top three finishers will receive fantastic prizes, and their names will be proudly announced at the event's conclusion. We'll also share the winning ducks on our social media pages, so keep an eye out for your lucky duck's moment of glory! (You don't have to be present to win, but why would you want to miss it!)
1st Prize: Gift Card Basket from Local Businesses
2nd Prize: Rain Barrel & Diverter Kit
3rd Prize: Bird-lovers Gift Basket
Rules and Fair Play:
All ducks entered are the property of Tinker's Creek Watershed Partners and must be official TCWP racing ducks to be eligible for prizes. The number of ducks available will determine the total number of entries, and the race committee may halt duck sales at any time.
Your Chance to Win:
Your odds of winning depend on the total number of entries, so don't miss out on this incredible opportunity! By entering, you release Tinker's Creek Watershed Partners and its affiliates from any liability concerning race participation and prizes.
Celebrating the Winners:
Congratulations to our winners! By participating, you consent to the promotional use of your names and likenesses, allowing us to celebrate your victory with the community.
Supporting a Great Cause:
Your entry donation of $5 per duck supports Tinker's Creek Watershed Partners vital conservation efforts and educational programs. Be sure to enter multiple times or pick up a quack pack of extra ducks to increase your chances while contributing to an impactful cause.
Weather Contingency:
While we hope for a perfect day, unforeseen circumstances may arise. Tinker's Creek Watershed Partners reserves the right to cancel, postpone, or reschedule the event due to inclement weather, acts of God, or other uncontrollable factors.
Mark your calendars now and make a splash at our First Annual Ducky Race during Watershed Family Fun Day 2023! Don't miss out on this memorable, family-friendly event that promises loads of fun, laughter, and a chance to support a cleaner and greener environment.
Quack! Quack! See you at the starting line!
Venue Phone: 3309636863
Address:
10075 Ravenna Rd
,
Twinsburg
,
Ohio
,
44087
,
United States